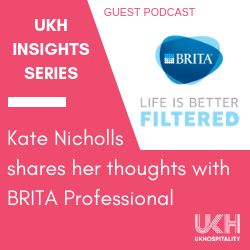 Kate Nicholls, CEO of UKHospitality, shares her thoughts on the key challenges facing hospitality businesses, such as staffing issues, rising business rates and the competition on the high street, and what these mean for the future of the industry.
Summary of BRITA Professional's Life is Better Filtered Podcast Series
The Life is Better Filtered: Collaborative Kitchen podcast series has been brought to you by BRITA Professional, the leading water filtration specialist. Through insightful interviews with some of hospitality's leading influencers, it provides thought provoking discussions and advice on the most pressing issues facing businesses, with a particular focus on kitchen productivity.
Download the ezine here: bit.ly/2zAqktL
ukhospitality.org.uk   |  Twitter: @ukhofficial